I used to like Steve Austin...such a nicely built man. But I always worry about those "types"...the big guys (body) and big names (celebrities). My concerns are valid though.
As it turns out Debra Marshall, Steve Austin's ex-wife was previously gagged from speaking out about the violence she suffered within her home...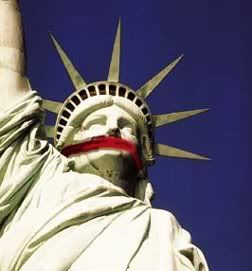 SOMEONE WITH LEGAL EXPERTISE, PLEASE TELL ME HOW VICTIMS/SURVIVORS CAN BE GAGGED, WITH PARTICULAR REFERENCE TO CIVIL COURT! THERE ARE MANY WOMEN GAGGED RIGHT NOW BY THE FAMILY COURTS AND I HAVE YET TO SEE ANYTHING STATING THAT THIS IS LEGAL!!!

...but I am glad that she has come forward, showing, that no one is immune.

From this article:

But the violence in the ring often followed Marshall home. Despite living what appeared to be a fairy tale life, domestic violence was a common occurrence during her marriage to Austin, Marshall said.

"I had this dream life where I was married to Stone Cold Steve Austin, I'm the top girl in wrestling, I live in this big old, $1.5 million home and it's happening to me," she said. "It was like the third time he hit me and I got really tired of trying to cover up my face on TV and just said, 'You do it one more time, that's it.' "

She researched the issue of domestic violence, and became afraid the abuse would only get worse if she did not leave Austin.

"I remember my sister Lisa goes, 'Debra, why don't you just go ahead and start planning your funeral because I won't be in any shape to plan it,' "

she said. "So then I had to take charge of my own life."

A gag order against her, placed by Austin and WWE prevented Marshall from speaking out immediately against domestic abuse, but after the murder-suicide of former wrestler Chris Benoit and his family, she broke her silence.

Marshall got to know Benoit in 1995, when she first began wrestling in WCW, and was shocked by the deaths. She saw the effect that steroids could have on wrestlers, both from Benoit and from her time with Austin.

"Steve would have it, and they could be so normal acting and then this rage would come out, and then you're dealing with this person who, there's no reasoning with this person," she said. "That just broke my heart."

While living in Denver, Marshall began working with the Safehouse Program to educate students on domestic violence.

"It's really hard, because people go, 'How can a woman stay with a man and they do that to you?' " she said. "But they break down your self-esteem, you have a fear in you, you have a hope, which sounds crazy, that they'll turn back around and be nice again.
"It's all this vicious cycle and it happens gradually and people don't even know it's happening to you because of all these factors pulling together."